You are here
Process Summer Institute
Date:
Monday, June 5, 2017 - 9:00am

to

Thursday, June 8, 2017 - 6:00pm
Event Description: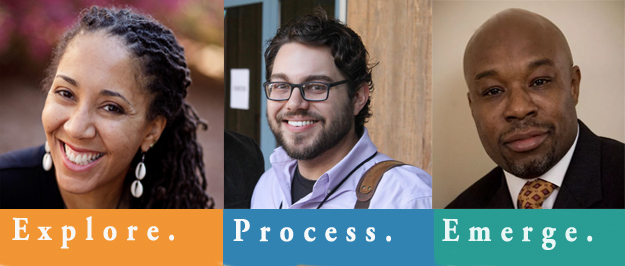 The Process Theology Summer Institute is a 4-day (June 5-8, 2017) intensive course designed to introduce basic issues in the theory and application of process theology. Broken down into three distinct parts with different course facilitators, the Process Theology Institute can be taken as a single 3 credit course, as individual 1 credit courses, or without credit directly from Process & Faith.
Course Descriptions
Exploring Process Thought: Spiritual Terrorism, Spiritual Liberation
Monica A. Coleman
TPS 3014
9:00 am – 11:00 am Monday-Thursday
This introduction to process theology will note classical theological precepts that create spiritual terrorism, beliefs that create more fear and suffering than grace and agency. This class investigates the process theological concepts that offer spiritual liberation in the midst of a changing world.
Topics in Process Thought: Deep Religious Pluralism 
Wm. Andrew Schwartz
TPS 3064
1:00 pm – 3:00 pm Monday-Thursday
The plurality of religions represents perhaps the great challenge and the greatest opportunity facing faith communities today. What does religious commitment look like in a pluralistic age, and how are we reconcile conflicting religious truth claims? This course will explore the foundations and implications of pluralistic theories of religion as found in process thought.
Process Theology & Biblical Interpretation 
Herbert Robinson Marbury
TPS 3089
4:00pm – 6:00pm Monday-ThursdayHow does process theology inform the interpretation of selected texts and themes?  This course examines biblical texts through the lens of major themes in process theology.
---
For Academic Credit:
Classes may be taken for 1 semester unit of academic credit or 1 advanced course of study credit through Claremont School of Theology at the posted tuition rate. Students who wish to take all three Summer Process Institute courses must register for TPS3063 and will not be allowed to register for the courses individually. Registered students should contact the Center for Process Studies for classroom information.
Non-CST students may also take the course for credit. Please fill out and submit the Transient Student and Course Registration forms to the CST registrar at  jallen@cst.edu. DEADLINE, MAY 30st.
Classes are available in person or fully online.
CST students who want credit, register through the CST registrar in consultation with your advisor.
For Personal Enrichment:
The entire week may be taken as personal enrichment for $300 payable to Process & Faith/CST, or each segment for $125.
More information and registration can be found at ProcessAndFaith.org